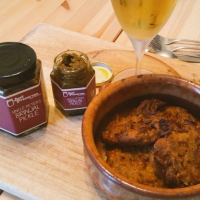 Just Preserves Brinjal Pickle is named after Eve's Uncle Peter who provided this winning recipe. Brinjal Pickle is an Indian pickle using aubergines cooked in a delicious blend of vegetable oil, a secret spice mix and a little vinegar and sugar. The result is an explosion of taste that compliments any Indian Buffet.
Onion Bhajis and Samosas – as shown in the picture, my favourite way to enjoy this pickle is with some Indian snacks and a beer – that's it! Simple and delicious.
With Strong Cheddar – Mixing Indian flavours with a strong British Cheddar works really well.
This is one of our "Specials" so it is not always available so enjoy it when you can!