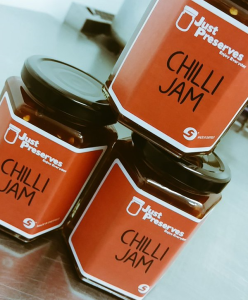 Our Chilli Jam tempts your taste buds with a sweet and hot delicious jammy delight. At Farmers Markets I sometimes get asked "how do I use it?" Well, how about: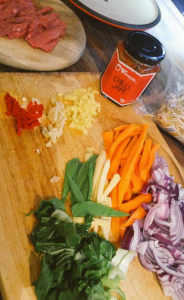 On a Stir Fry – my favourite! Make a stir fry, just before serving drizzle a good helping of Just Preserves Chilli Jam over it. It really adds a final flurry of sweet and heat to your finished dish.
My usual stir fry consists of 1. Add oil to coat the Wok/Pan and heat on high. 2. Add chopped ginger, garlic and red chilli, fry for 30 secs. 3. Add your meat (if using, I usually use chicken cut into thin strips so it cooks quickly), fry until almost cooked through. 4. Add your veg (all should be roughly the same size to cook evenly) and cook for a minute. 5. Add noodles (that you have cooked and drained just before starting the stir fry) and a splash of Soy Sauce and turn off the heat. 6. Serve on plates and drizzle over Just Preserves Chilli Jam!
Quiche Base – As seen in The Sheffield Cook Book p. 101 – When you have blind baked the pastry base and it has cooled, spread a generous helping of Just Preserves Chilli Jam over it before pouring in the egg, milk, cream mix and any other fillings. It gives a lovely background sweetness with a slight kick!
Prawn Crackers – Simple but a classic, dip your Prawn Crackers in Just Preserves Chilli Jam for a naughty but nice treat!